The real Jersey Girl !!
From Mike (NYC)
---
This Page Is For A Superb, Personable, Well Respected Irish-American Pop/Rock Music Recording Artist and Acting Personality.

When people hear the name FIONA, and the subject is music, they automatically think that you are making a reference to Fiona Apple. How ever, before Fiona Apple appeared on the music scene there already was a FIONA ... Fiona Flanagan to be exact. During the period 1985 to the early 90's, Fiona Flanagan left her mark on the music scene. The "Rock" scene to be exact. If you are a fan of Howard Stern, you will remember her from her appearances on his then some-what syndicated radio show, back in 1986 and 1987. Stern's 'Fiona Dial-A-Date' show was one of his finest and funniest broadcast's. She also appeared on 'American Bandstand', 'Solid Gold', she hosted MTV's 'Hard 40' Special, and finally hosted an ABC-Tv 'In Concert' show. She then won herself a Leading Guest Role in an episode of 'Miami Vice.' .'Fiona Live At The Automat' (Restaurant, no longer exists, sorry to say), on WNEW-FM NY's Morning Show (1985), was one of the Finest Live Remote Morning Broadcast Events in NY Radio. Ya should have been there, for we all had a great time! Hard to believe show Co-host Mark McKewen went on to bigger fame on CBS-Tv News ("Hey, Mark!) ... He was a staple back then in NYC Radio.

Despite of the fact she had never become a Worldwide houshold name, was never nominated for, nor won any music awards, Fiona's talented voice still rings clear in the ears of her fans here in 2002.

During her parents maiden ocean voyage from Dublin, Ireland to their new home in America, was when Fiona was born. Her parents settled in the very celtic community of Phillipsburg, New Jersey (Warren County). Her school summer vacations found her taking up acting. She appeared in many Summer Stock productions. And it was there that she had her first real taste of Pop Music (other than traditional Irish music, which she had grown up with at home). She was immediatley hooked on the Beatles. She went on to explore their musical past, and that of other present day artists. She did although play clarinet in school. Upon graduation she won a Scholarship to the New York University School of Drama. She how ever never followed through on it. Instead she was convinced she was going to be a well-known musical talent, and followed that dream. First in a series of garage bands (one was with Bon Jovi drummer Tico Torres, long before he hit the big time with John). Her life then found her doing some very sleepy early morning commuting on NJ Transit trains between NYC and Phillipsburg. It was then she had met fellow musician and close friend Laura McDonald (talented in her own right, had her own band, and a few record releases herself. She later joined Fiona for the 'Squeeze' release, and the new and final band lineup).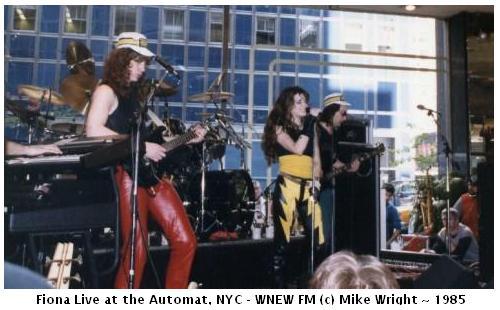 Finally, after much determination, she hooked up with with 'The Dixie Dregs.' She then cut a demo, and managed to convince the A&R staff at Atlantic Records (namely Jason Flomm) to sign her to a recording contract. They did! ... and that contract led to her selftitled debut Lp 'Fiona' (featured Single was 'Talk To Me'). Her second Lp, 'Beyond The Pale,' featured the Single 'Living In A Boys World'. The Lp is a Big Fan Favorite. Her third and final Lp with the label was titled 'Heart Like A Gun.' It featured her Hit duet 'You're Sexing Me (Everything You Do)' with rocker Kip Winger. The Video garnered her much airplay and audience response on MTV. She then took a break. She then hooked up with Laura McDonald, formed a new lineup and went on to release one final industry Lp titled 'Squeeze' for the Geffen Label. Its featured Single was of course 'Squeeze,' which received decent "Rock Radio" Airplay (on such stations as WDHA-Fm in Dover, NJ).

During her "Atlantic Years", the label managed to get at least one or two Fiona tunes on a few Motion Picture Soundtrack releases, in an effort to promote her even further. Fiona luckily then landed a prestigious guest role on the Hot Hip 80s NBC-Tv Cop Drama 'Miami Vice'. She appeared in the episode 'Little Miss Dangerous' (based on the Ted Nugent Song Lp Title), were she appeared as the character 'Jackie McSeiden'. The role called for her to basically be a late-teen hooker who killed her "John's". And almost Phillip Michael Thomas (as Ricardo Tubbs) for that matter. But in the end, Don Johnson saved his "sorry ass". Ya can find that specific Episode in re-run every so often here in the Year 2002.

Fiona then won the lead role of 'Molly McGuire' in the Lorimar Pictures feature film 'Hearts Of Fire.' Basically a rock-love-triangle story, which also starred (R&R Hall Of Famer) Music Icon Bob Dylan, as well as British screen hearthrob Ruppert Everett. It was written by Joe Ezsterhaus ('Showgirls', 'Flashdance', etc.), and directed by the late Richard Marquand (best known for 'Jagged Edge'). Unfortunatley Marquand passed away shortly after, and that combined with its so-called bad initial opening 10-day run in London, which then was further damaged by bad British press reviews, forced Lorimar to "shelve-it" from further distribution. Lorimar made a limited-run for the VHS and VideoDisc markets. You can still find scarce copies of both at various Online Movie/Music Sources. On VideoDisc it is marketed under the 'Image Entertainment' label. Damn good film if ya can find it. To this date it has not been shown on Cable, in theaters, nor on basic (free) television. Damn shame too, for the Film finally proved that Bob Dylan could indeed act. (His other past films "sucked" ... but this was his "shining moment" and Best to date).

The Soundtrack (Cassette, Vinyl Disc, Vhs, Laser Disc) to the Film 'Hearts Of Fire' (featuring Fiona, Bob Dylan, Rupert Everett) is indeed a "Collectors Item" amoungst hard-core Dylan fans. Rare find yes, but some odd places on the Net do have limited copies and will sell it.

She has also co-written a few tunes for other Artists as well, and has appeared on other artists releases.

After all this in her life, Fiona decided she accomplished her goals, had enough fun and called it quits. She is no longer recording. She did how ever have a cameo role in the recent Feature Film 'The DOORS', (based on the famed 60's Rock Icon band), which starred Val Kilmer and Meg Ryan.

FIONA is a Superb Thespian in her own right. She truly has brought the characters she has performed to life. Yes, Art Imitates Life as they say, and she is Damn Good At It!.

As for the present and future, Fiona's legion of fans hope (and pray every day) that she comes back out of retirement, returns to the main stream and resumes her gifted crafts once again. Presently she resides in California, has a husband, two children, has a new small band that plays around occassionally. Word has it that in 2001, FIONA signed with Coallier Entertainment.

So here's to you Fiona! ...Best Wishes!...God Bless ya, girl! ... It was a Blast! ... You are deeply missed! ...Come back! ... The present World of Pop/Rock Music is quite dull without a talented voice such as yours!!! With much love and admiration for precious your gifts, and for the person you truly are ... Slainte!

Mike ... (The Original "Mr. Smoothie")

* For 'Just John'...I know you are out there. Bless you for your Fiona Page... You inspired me as well...Best (Mike) *



---

---