Touched by Heaven
By J. Lambert
---
Summer of 1985, Fiona was touring with Bryan Adams in support of her first album. Local girl from the Phillipsburg, NJ area, playing in Allentown, PA. I had bought the album and immediately fell in love with the voice (and face of course). I was 19 and a musician looking to make it big myself. So, I took a couple buddies with me to the show (who also liked Fiona), and we worked our way near the stage (general admission standing only area). Fiona hit the stage and immediately rocked the outdoor venue, with Franco, King and the rest of her touring band. I mean, she ROCKED. Very little response from the crowd, most of them stood stone-faced waiting for their pop-king Bryan Adams. So I figured, heck with this, and held up my Fiona tour shirt (which I had just purchased). My bud's and I started pumping our rock'n'roll fists in the air and basically took over the show from a crowd standpoint.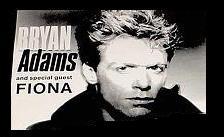 Fiona was singing in Allentown on June 24, 1985, at Allentown Fairgrounds.

Fiona and the boys certainly appreciated it, as they basically played to us for the balance of her set - too cool. Anyway, after her set, and before Adams hit the stage, we walked over to the side of the stage to see if we could catch a glimpse of Fiona backstage. Well to my surprise, she was 10 feet away talking to a security guard. I yelled her name, and not only did she wave back, she recognized us and came over to get us and came out to get us. For the next 20 minutes or so, she took the time to hang out with us, HOLDING MY HAND THE ENTIRE TIME, while she answered our questions and basically just hung out talking about "whatever". TOO COOL !!! For a 19 year old kid and his friends to be treated so warmly by Fiona, when she really did not have to, was one of the biggest thrills. I will never, ever forget her taking the time to do that. It was one of those cool moments in life where she appreciated what I did for her on stage, and returned the favor to me by hanging out when given the chance.
---

---